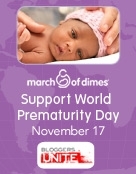 Tomorrow, November 17, is World Prematurity Day -- an event created as part of the March of Dimes Prematurity Campaign to raise awareness of and remember babies who died from premature birth. Worldwide, 13 million babies are born prematurely. Prematurity is the leading cause of death among newborns, and causes complications at birth and lifelong illnesses. In the last 25 years, the prematurity rate in the United States has risen by 36% -- one of the highest rates for preterm birth in the world.
Sometimes, in cases of true complications, preterm labor and birth is unavoidable. In many cases, however, preterm birth can be prevented. If you are pregnant, there are things you can do to lower your risk of preterm birth.
Lowering Your Risk of Preterm Birth
Prenatal Care - Seek ongoing prenatal care from a reputable care provider. Whether your preference is for midwife or obstetrician, be sure to research your care provider's history and practices. Ask about their rate of induction. If they don't know it or report a rate ranging from 20-30+%, consider finding another care provider.
Induction - Inducing birth or scheduling a cesarean surgery prior to 39 weeks of pregnancy can lead to premature babies. Even if friends and family tell you different, every week counts! Babies undergo vital development up to the very moment of their birth. And, because your due date is just an estimate, it can be off by up to two weeks in either direction. So, a baby that is induced at 38 weeks may only be at 36 weeks gestation. If your care provider is pushing for early induction, ask questions! Learn what counts as true medical indication for early induction or cesarean surgery. If being "so done with being pregnant" is getting to you, hold tight and think of the babies born at 28 weeks, with mommies who would have given anything to make it to 40 weeks.
Education - The Internet is overwhelming. When it comes to making informed decisions in pregnancy and birth, the Internet is a good place to start, but not a good place to stop. Sign up to take a childbirth education class from a childbirth educator certified by a reputable childbirth education organization (there are many, but we really think Lamaze is tops!). Childbirth education provides the foundation for educated, evidence-based decision making for you and your partner throughout pregnancy and birth.