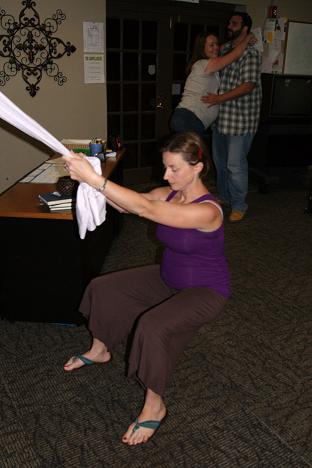 Practicing a squat while my classmates demonstrate a supported standing position.
I'm halfway through my first Lamaze class series -- which, as I mentioned in my last post, I'm attending as a third-time around mom -- and so far, so great! My instructor, Tracy Cuneo, is a Lamaze Certified Childbirth Educator (LCCE) and also is who I have hired as my doula. The class is a 5-week series that meets once a week for 2.5 hours at a time (sounds long, but I can assure you that it flies by!).
My overall impression upon leaving class the first night was, "Every pregnant woman AND her partner should attend childbirth classes -- I can't believe more women don't do this!" The instruction, community, camaraderie and enthusiasm left me feeling reinvigorated about my birth plan and thrilled with the opportunity to appreciate my pregnancy and birth in a whole new way.
In the first night's class, we were given a handbook, a folder and some handouts. We reviewed the basics of Lamaze (they're not about "breathing" anymore folks!), the Six Lamaze Healthy Birth Practices, discussion questions for your care provider, prenatal nutrition information (I had no idea how many grams of protein are recommended for pregnant women), and solutions to common pregancy discomforts. We also covered the standard ice-breaker activities to get to know the four other couples in the class (plus a doula-in-training). As much as I can't stand that sort of thing, it did break the tension -- I mean, we are discussing intimate subject matter (hemorrhoids anyone?), so it helps to get to know each other.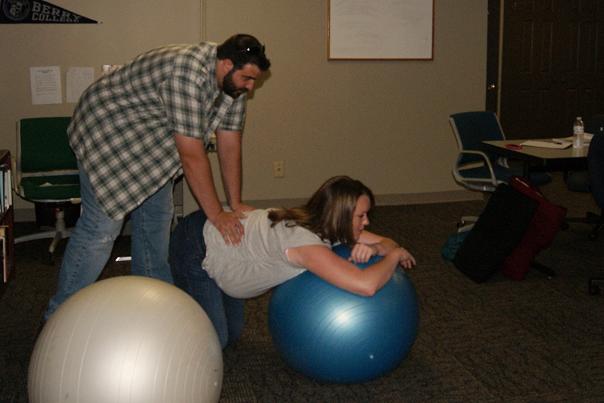 The instructor also went around the room to ask why we were attending childbirth class. I was pleased to hear that two of the first-time couples felt that taking a childbirth class would help them achieve a low-intervention (aka "natural") birth. Another mom was attending classes for the first time with her third pregnancy (I wasn't alone!) because her first two births were scheduled inductions with an epidural -- she had never felt one contraction -- and she is planning for a water birth this time around. One of the dads commented that he was the one to pull his wife into class -- he was genuinely eager and motivated to learn more about birth. In general, I have been delighted to watch the fathers actively participate and ask questions during class.
The second class focused primarily on the stages of labor as well as different labor and birth positions and comfort measures. In this class, we became active participants as we moved around to different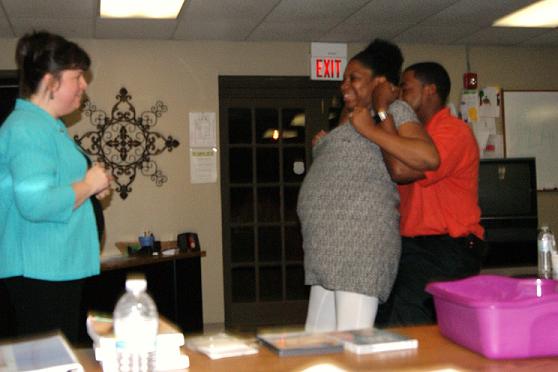 stations to practice techniques. So far, I'm a huge fan of the relaxing on the birth ball.
I look forward to the remaining classes so I can share the rest of my experience with you. Stay tuned for more, including a profile of some of the other class participants.
Do you plan to attend childbirth classes? Why or why not?