By Lauren Cooper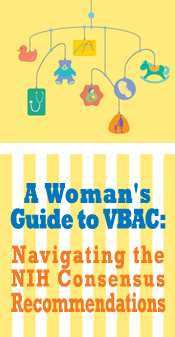 This article is part of A Woman's Guide to VBAC: Navigating the NIH Consensus Recommendations, a collection of resources that address the most common and pressing questions women may have about their birth choices. View all sections in the guide, including a link to the authors, on the index page.
The cesarean rate is climbing and access to VBAC support is dwindling. According to the NIH VBAC Consensus Statement, women deserve access to VBAC and the final decision between a repeat cesarean and a VBAC should be the mother's. There are many things you can do to take action, bring attention to this growing issue, and ignite change in your area.
The NIH Consensus Statement on VBAC states that there are many factors contributing to the decline in VBAC access and many facets of this issue that need further research and support. Raising awareness locally urges care providers in your area to practice evidence-based care, helps women be more aware of their options, and encourages implementation of the NIH panel's recommendations that make VBAC support more accessible.
Additional Reading
50 Ways to Protest a VBAC Denial by Barbara Stratton